The January Challenge and your workplace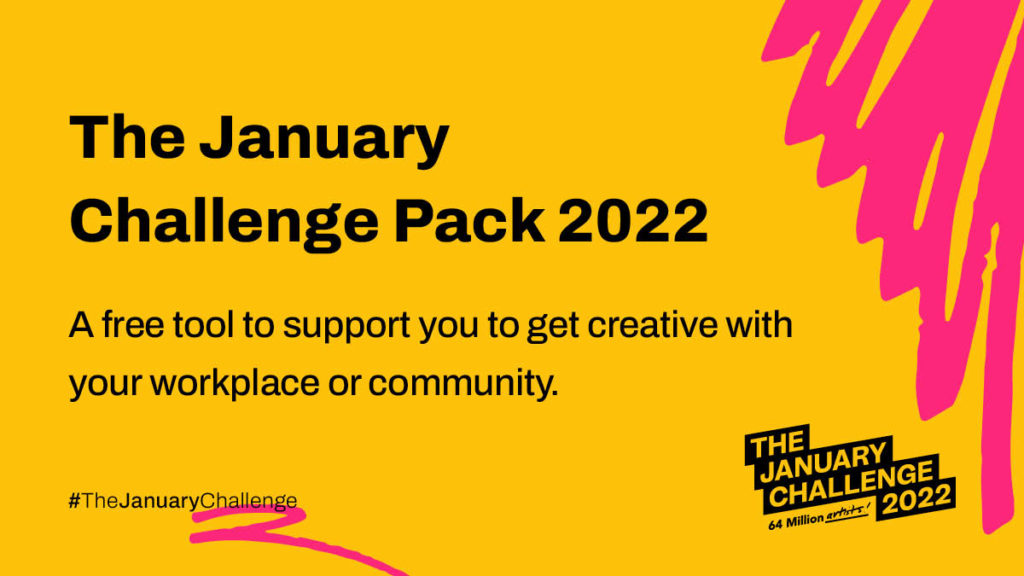 The January Challenge is 31 days of fun, quick and free creative challenges to kickstart your year. 
In 2021 more than 50,000 people took part including adults, children, workplaces, community groups, schools and more, and 96% said that being a part of the January Challenge has a positive impact on their wellbeing.
The January Challenge boosts creativity, wellbeing and community connection in groups and teams. If you want to beat zoom fatigue, inspire creative conversation and start 2022 the right way – use The Champions Pack! 

Anybody can sign up to receive a challenge email for each day of the month (you can too, click here.)
To help whole organisations take part in The January Challenge together – we've created a free Champions Pack – including all of the challenges ahead of time. This means that you have the inside scoop!
With this pack, you have control over your experience, and can set up your own ways of sharing the challenges, and engaging your teams or participants. Use it to get prepared, pick and choose your favourites, adapt challenges – make it work for you! 
64 Million Artists can help you get set up and ready to use the pack. To enquire about onboarding sessions, or workplace creativity workshops – email us at jemima@64millionartists.com.
When you download this pack, you will find all of the 2022 challenges. Remember, the daily challenges are a surprise for thousands of people taking part – please only share and use the pack internally. 
We also offer bespoke support to
larger workplaces
What about creative sessions for your whole team?
Our aim is to support teams to explore everyday creativity in work and in leadership. 
We work with leaders like you to help develop your own practice as a facilitator of group creativity and engaged participation; and with the staff body to celebrate their creativity and introduce the Challenge. 
Or challenges bespoke to your business…?
We can work with you and your staff to co-create 31 challenges totally unique to your organisation – and reflective of your business values, creativity, work and ideas. 
Together we'll create the challenges in a series of creative, participatory workshops, and deliver them to you in a tailored pack. 
This offer sits alongside creative facilitation training for leaders, staff creativity workshops and support throughout January. 
"It was really beneficial to have something positive to focus on for a short amount of time every day, and definitely helped me get through a tough month. It was also lovely sharing with my colleagues, and hearing what they thought about the challenges. I loved seeing just how much that little pocket of daily creativity had impacted them."
"It's been a fantastic experience for me - I found that I've been able to look at the world in a slightly different way than I would if I was sat in an office for 9 hours a day answering emails."
"It pushed me to think outside of the box all the time. I was forced to stop and reflect, look around me and generally get off the treadmill. I feel more open to taking risks. I feel more confident."
"Two things have happened for me while introducing this to the NHS trust I work in. The honesty and openness that staff bring to the challenge and the vulnerability they are happy to share through the creative projects they embark on. Wow! And then today as the challenge has been taken to our Dementia patients … ! I love it, my family love it, my workplace love it and we are laughing at the ideas we are coming up with…"