Connect to Create: Long Covid Creative Support Programme
Connect to Create is a free creative support programme for those experiencing Long Covid (on-going symptoms and long term effects of Covid-19), supported by The National Lottery Community Fund.
Connect to Create is 28 days of creative activities, the programme is designed to provide a platform for sharing experiences and a positive point of connection through gentle creative stimulation. The programme will run between 18th March – 20th April, and will connect small groups using WhatsApp.
The programme has been designed in partnership with Monique Jackson of the
Still Ill Corona Diaries
, and co-created with researchers and those experiencing Long Covid.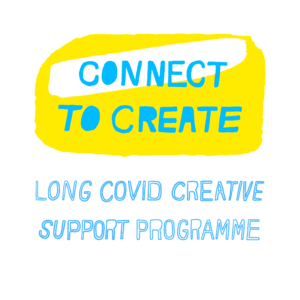 Programme Structure: 
Participants will be allocated into groups of up to 10 people, and the support groups will be set up via WhatApp.
We will begin with an introductory Zoom session providing a chance to meet fellow participants and group members. 
Over the four week period we will release a creative activity each day via email, with the WhatsApp group acting as a connection point for discussion and a place to share your responses.
The activities will be simple and accessible creative prompts that can be done within 5-10 minutes. You do not need to try every activity – you can spend as little or as long as you like, doing, thinking and sharing!
Key Dates
Introductory Zoom Session: Thursday 18th March 
Programme Run: Monday 22nd March to Sunday 18th April
Zoom Reflection Session: Tuesday 20th April
To Note: 
The Zoom sessions are not compulsory and we will ensure there are sufficient breaks to meet your needs.

The WhatsApp groups will be self managed by participants, so if you would like to take part with an existing group, please specify on the registration form. 

Don't worry if you prefer not to take part via WhatApp, the creative activities will be sent out via email each day!

An accessible, easy read guide of programme information will be provided ahead of the start date.
To register for this programme, please fill in the Registration Form and Equal Opportunities Form by Friday 12th March at 5pm.
Registration has now closed. 
If you have any questions about the programme or registration process, please don't hesitate to email yashoda@64millionartists.com