We're over half way through #CreateToConnect – a month of daily creative challenges to keep us creative, curious and connected at home (or wherever we are at the moment.)
Our current situation is an extraordinary one. It is a situation that many of us have never had to navigate before, and a situation that can open the door to anxiety and confusion, but also to hope and connection – and at 64 Million Artists we feel like we're in the business of hope.
Each challenge is a celebration of an organisation, community group or individual's brilliant work, and an invitation to do, think and share alongside them. The 'Sharing' bit changes shape when we can't be together physically. So, how are people keeping connected?
From Zoom workshops, to letters in the post, to radio call outs to reaching out and checking in in our busy Facebook group – the 64 Million Artists community is keeping connected.
A lady called Fran has created a bus stop gallery in her local village, and is adding the challenges each day for people to take away ideas, and add their creations. We've set up community led Whatsapp groups for Challengers to chat and share in smaller groups (Day 17's collaborative creation challenge was a fun day to be a member!)
Youth group leaders translate the challenges for ESOL participants. Teachers send notebooks, pens, glue and magazines to students alongside printed challenge PDF's. Coordinators pin up challenge posters in hospital wards, in prisons, in care homes. Parents kick off homeschool with a challenge – or a challenge might end up framing a whole day of independent, playful learning. We see the very tip of the social media iceberg. People are amazing, and resilient, and kind and generous. People find ways to keep connected.
Download our free activity packs for inspiration on how to engage your community – and keep your eyes peeled for more workshop experiences coming up.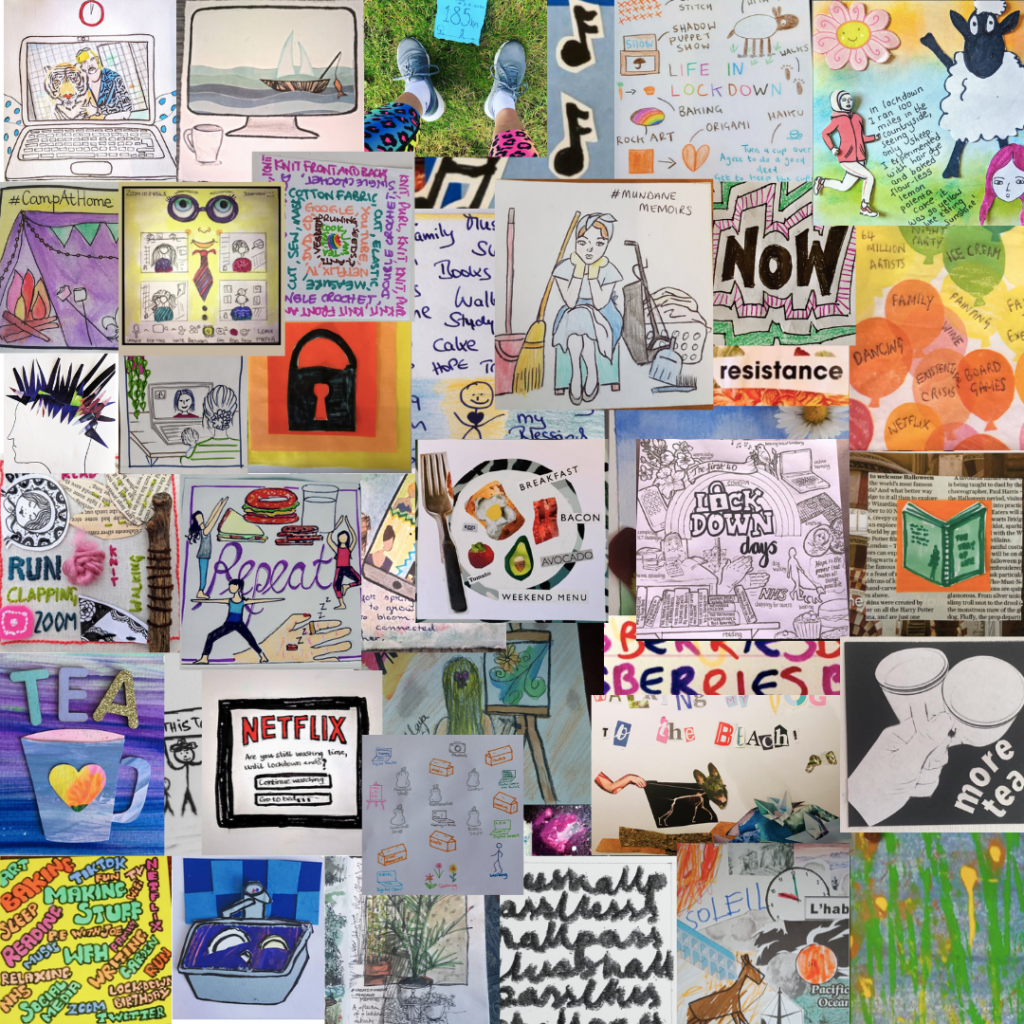 The journey
A challenge is a playful prompt to inspire accessible creative action. It is a warm invitation to flex your creative muscles (we've all got them), try something new and see what happens. It's also a clever disguise for a tiny vehicle, that might just take you to somewhere new. It might be a delicate, bike sized vehicle to a moment of reflection or thoughtful mindfulness. It might be a monster truck of a vehicle to belly laughs with friends, family or colleagues (it still counts over zoom.) It might be a Black Cab – a challenge that gets you from A-Z (from 'do' to 'share') – but the in-between is yet unwritten. From your vehicle, friendly waves are thrown and received from others in their own vehicles. The shared experience of a creative challenge is an invitation into our (virtual) limousine. There's space for everyone in this community.
We've created to connect with our breath, with our local area, with our hobbies and interests, with organisations around the country, with people we know, and with people we don't know. Find the full list of challenges so far here.
As we do, think, and share together, practicing new hobbies, admiring other contributions, taking a tiny bit of time away from a screen and in front of a piece of paper, we're on board the Create to Connect vehicle (and we're riding the ups and downs of the CoronaCoaster together.)
Jump in and join us at any time. Sign up to receive a daily challenge email, follow along on social media – or, download our free activity packs. Packs include all of the challenges ahead of time as well as ideas for community engagement – online and offline.

Let's #CreateToConnect.
64 Million Artists have been exploring the relationship between creativity and mental health and wellbeing. Find more on our clinical research here.