It's time for a celebration and you're invited.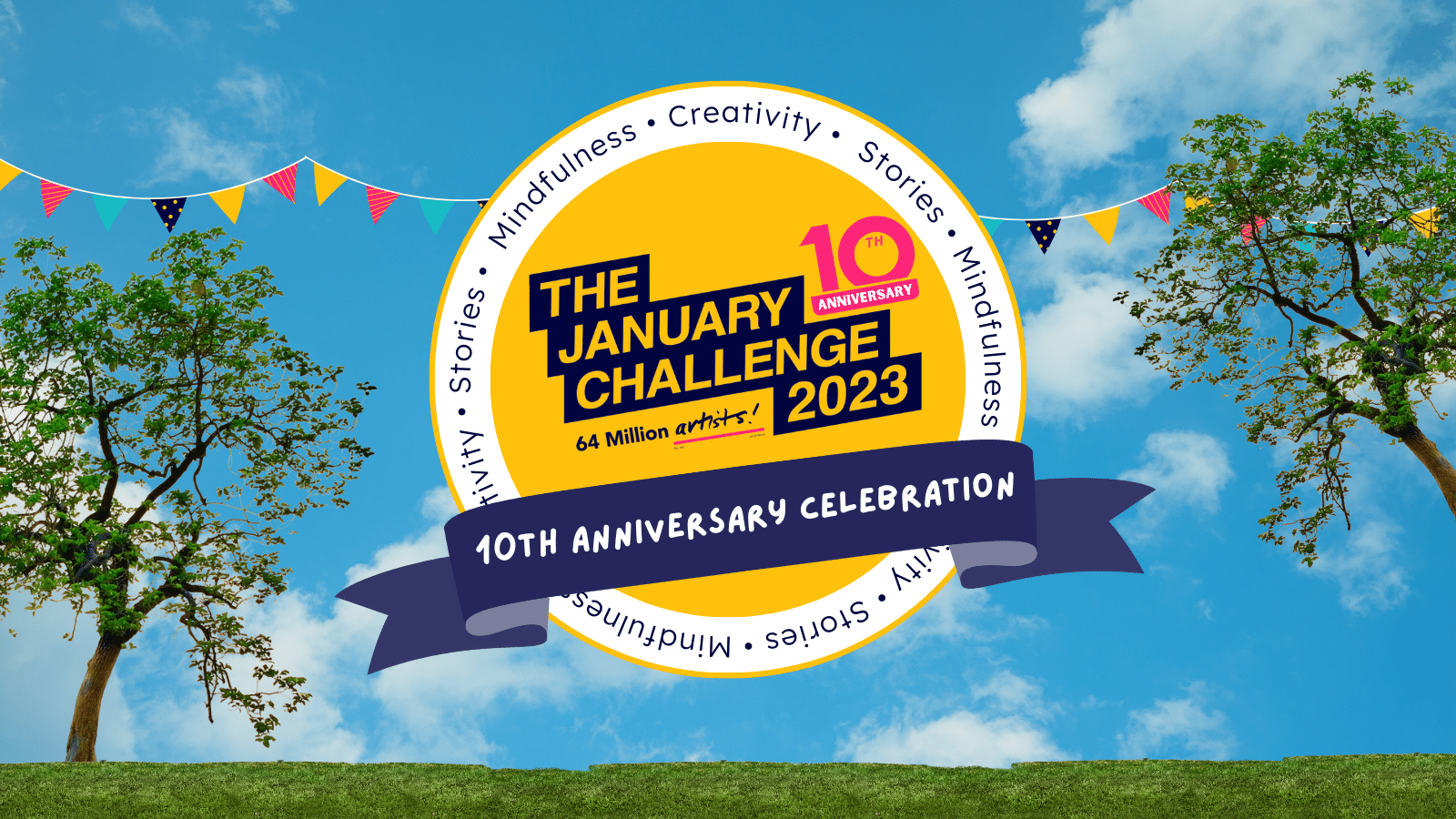 When: 31st January 2023 (this month)
Time: 12:00 - 01:00 PM
Where: Zoom
We're throwing a virtual party to celebrate TEN WHOLE YEARS of The January Challenge, and we'd love you to be there.
The January Challenge has brought us:
✨ Ten years of your extraordinary creativity
✨ Ten years of releasing perfectionism
✨ Ten years of boosted moods in January
We're getting together for one hour on the last day of The January Challenge to celebrate our fantastic community (that's you!) and the collaborators we've had over the last decade.
Celebrate your creativity
We invite you to wear something celebratory if you fancy it (we'll be doing the same) this might be a party hat fashioned out of what is lying around you, some old jazzed-up glasses, dig out a dickie bow or whatever pleases you.
There's no pressure here, feel free to come as you are.
Invite your friends and co-workers
If you want to invite friends and co-workers to our celebration, please do! Here's a few ways you can:
💌 Send this link to them so they can book their free ticket (don't forget to get your free ticket too!)
🖨️ Download this A4 poster to print something for a noticeboard where you work
Share with your friends and community online
🚀 You can share with your friends/community on your Instagram Stories, Facebook or Twitter using #TheJanuaryChallengeParty - You can find images below if you want to use them to spread the word!
Some suggested text for a post might be:
🎉 We're going to The January Challenge 10th Celebration! 🎉 It's on the 31st of January, 2023, via Zoom. Want to come along too? Get your free ticket here: https://bit.ly/JanuaryCelebration #TheJanuaryCelebration
Here are some images you can use for Instagram stories, Twitter & Facebook.
This event will take place on Zoom. The event will be BSL interpreted and captioned. There may be further accessibility considerations we have not included. If so, please let us know, and we would be happy to make arrangements for any requests, simply contact: jemima@64millionartists.com
Want to share your story?
We're often told that The January Challenge has had a domino effect and inspires conversations and moments in people's lives. We're collecting the stories of The January Challenge to share on our blog.
Want to share yours? Click here or leave us a voice note below!
We hope to see you there!