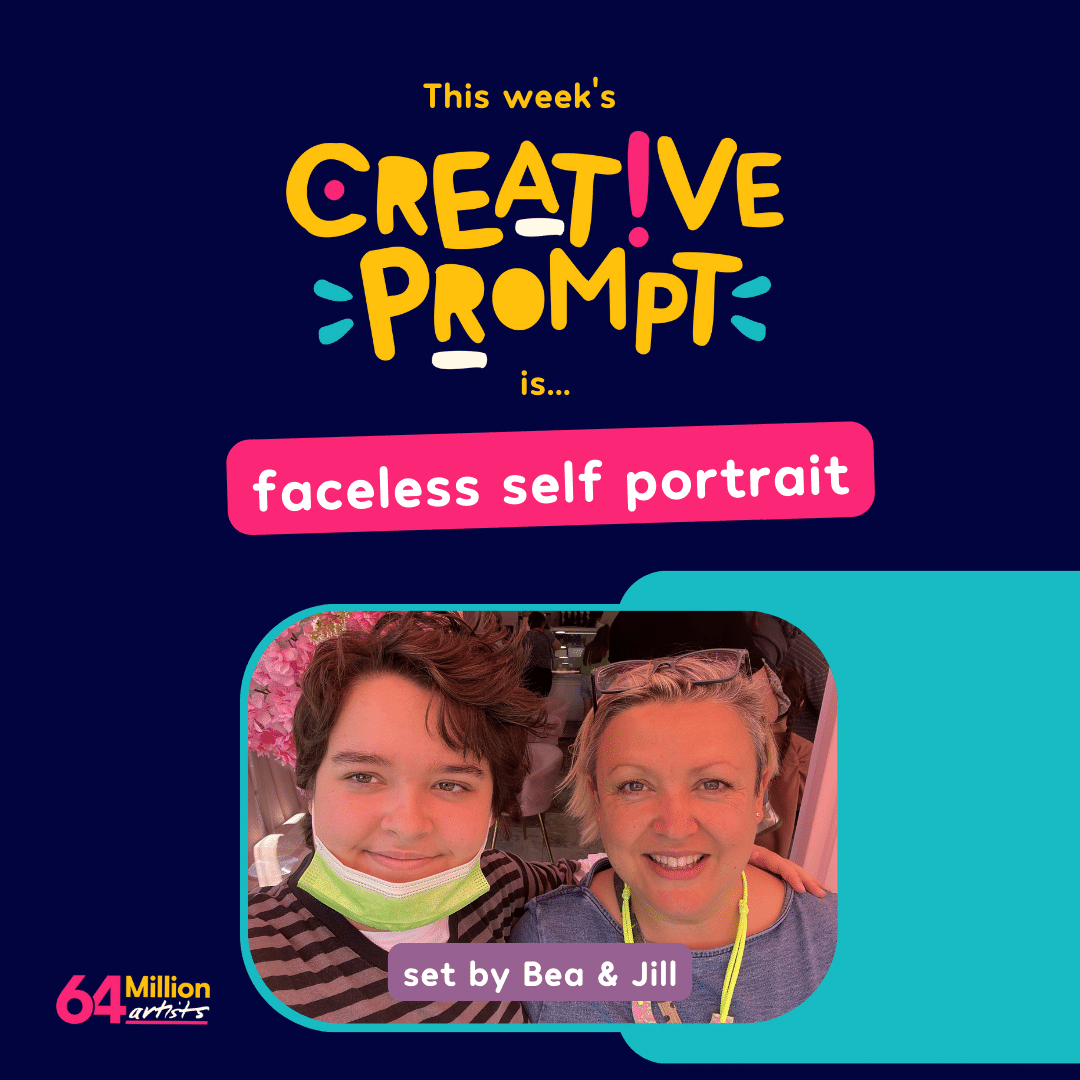 Creativity is...a faceless self portrait
We're so excited to share that the creative prompts we share throughout November will come from creative duo Bea & Jill! 
"We are Bea and Jill, a creative duo who work together as one artist. Bea (they/them) is an autistic young person. Jill (she/her) is their mum and carer. Our creative practice explores identity and community. We like to play games, tell stories and help others to do so too, especially those whose voice is unheard, presumed or overlooked.
Bea has multiple disabilities and has had ME/CFS (chronic fatigue syndrome) since a young age so our relationship is much more entwined than a typical mother/teenager. We make art together as a way to explore, negotiate and celebrate this.
ME/CFS, neurodivergence, disability and caring have a significant impact on our day-to-day life, critically informing our views of our wider environment, from our community to the organisations and authorities making decisions that affect us.
Bea is mostly housebound and often bedbound so we prefer to work digitally and like to explore alternative mediums like computer games and other online tools such as Google maps to create art."
Throughout the month, Bea and Jill will offer specific suggestions for how you can respond to the creative prompts, if you prefer working either digitally online or offline.
Their weekly creative prompts are inspired by their most recent project Pillow Palace and the artists who took part! 
"Our most recent project, Pillow Palace, was a virtual art exhibition, built in Minecraft, for and by autistic young people. Pillow Palace is a place where a visitor is also an exhibit and exhibitor, in their own exhibition for one.
We worked with 12 young autistic artists to build their perfect space, filled with the things that they want to see, hear, feel and play with: favourite objects, places, characters, ideas, hobbies or whatever else makes them happy. We also supported these artists to produce audio and video tours of their exhibits.
You can see our Pillow Palace project website here.
If you or your school own Minecraft Education Edition, you can download the Pillow Palace exhibition Minecraft world and visit it with your friends!"
"Over our 4 week takeover, we would love to take you through a creative process of thinking about your own Pillow Palace where you are the visitor, exhibit and exhibitor. Our prompts are designed as a series but each one works equally well on its own.
We would also like to encourage you to spend time thinking about what makes you an artist or a creative. Many artists have a materials-based practice e.g. they paint, draw, or make things from clay or textiles. We don't really do that. We spend more of our time thinking, talking and imagining than actually doing and that's OK.
We believe that creativity can happen in your mind as much as on paper or a screen and that we learn and grow through the process even if there isn't a tangible outcome (a piece of work, art) to show someone. Conversations (even with yourself) can be one of the most creative activities you can take part in.
It's important to us to explore ways of creating that are accessible in different and alternative mediums, so a couple of our challenges suggest a digital/online way of working as well as a traditional one.
We also think that creativity should be fun and low duress, so if you simply think about our creative prompts, or talk about them with a friend, that's enough."
Listen to the creative prompt below
Design or curate a self-portrait that doesn't include your face. How else could you represent yourself? What makes you, you?
Is it more important to you that your self-portrait is immediately recognisable to others who know you? Or is it a chance to share something different about you that most people don't know?  Are you made up of many different things or lots of one thing?
Working online:
Create a playlist of your favourite music, podcasts or videos on a service like Spotify or YouTube, or a Pinterest board of recipes or pictures of your favourite hobby or topic.
Share your playlists, wishlists and boards with friends and invite them to share theirs - did you learn anything new about each other?
Working offline:
Create a collection of objects that are dear to you - they could be of any kind - from special mementos or souvenirs to everyday things like cooking equipment, crafting tools, make-up or clothing! Arrange them together for a still-life study - drawn, painted, photographed or described.
Send your list of collected objects to a friend and ask them to tick off things they also like to do - could you plan to do those things together?
Bea and Jill have made playlists on Spotify for their faceless self portraits, and a Pinterest board of some of their work and others for inspiration. Discover them in the links below.
Bea and Jill's Spotify faceless self portraits
Bea and Jill's Pinterest board
Is your self-portrait always who you are now? How could you adapt your creation to reflect who you once were or would like to become?
Online:
Add old forgotten favourites to your playlist and enjoy rediscovering how much they meant to you and how you have since changed. Create a shopping wishlist for a hobby or activity you would like to do in future, or use Pinterest to plan a trip or holiday, or even your ideal future job.
Offline:
Reimagine your still life as if you were much younger or older - would the same objects still be representative of you, or would it look very different? Write a shopping list for a new hobby or a recipe you want to try. Or create a list of places you would like to go; then imagine what those lists might contain if you were writing them in another 10 or 20 years time!
Share your response to this creative prompt with friends and family and invite them to join in.
Share your creative response on Instagram, Twitter and Facebook with #CreativityIs and #64MillionArtists
If you have an idea for a creative prompt you'd like to share with us, you can submit it below!

free inspiration in your inbox
Join over 22,000+ and sign up for our free newsletter for creative prompts, competitions and inspiring interviews.
You'll receive our weekly newsletter and a daily creative prompt throughout January (you can change your preferences at any time).