The January Challenge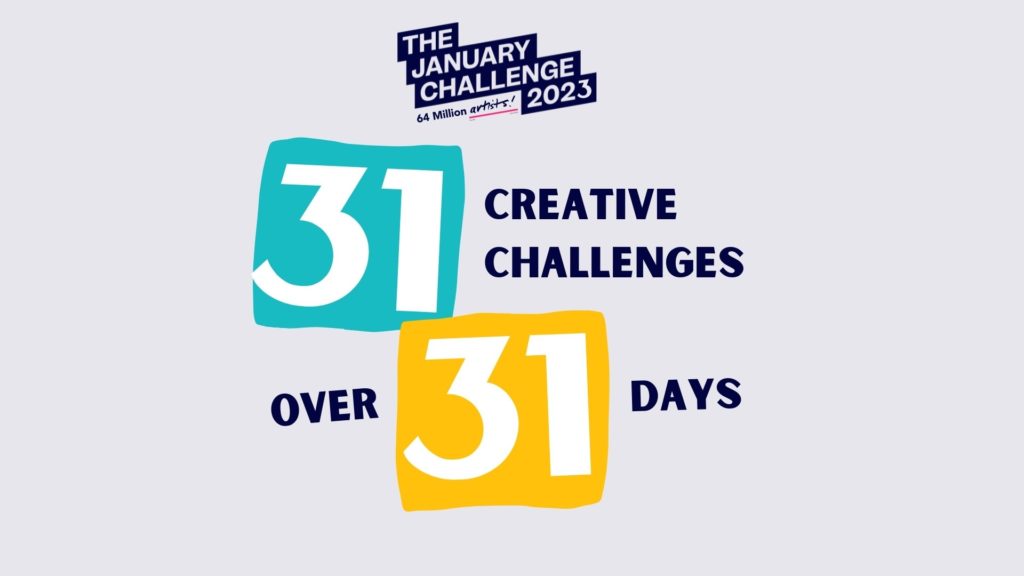 The January Challenge is 31 days of fun, quick and free creative challenges to kickstart your year.
Get ready for the best year yet – sign up here!
2023 is the 10-year anniversary of The January Challenge. It will be full of brilliant ideas to inspire your creativity, designed by musicians, chefs, sports stars, writers, makers, activists and community groups across the UK.
Thousands of people take part in The January Challenge each year, and tell us about it boosts their creativity and their wellbeing. Join in and make 2023 one to remember!
How does it work?
At 64 Million Artists, we believe everyone is creative, and when we use our creativity we can make positive changes in our lives and the world around us. At the beginning of each new year, we release a daily creative prompt to inspire, activate and celebrate that creativity, throughout January, and beyond!
The challenges are all quick to take part in, and you'll be able to do them with the things you have around you. They are accessible, they are fun, and they are free.
You can sign up to receive the challenge in a daily email or follow along on social media. Take part on your own, with family or friends – or by sharing online. You'll find a fantastic online community using the hashtag #TheJanuaryChallenge on Facebook, Twitter and Instagram. There, you'll be able to see other people's responses and share your own.
How do I get involved?
Sign up to get on the list ready for The January Challenge launch. We'll send you exciting updates on who'll be involved along the way.
Our 2022 impact report is now here!
We've worked with the brilliant people at Tialt to uncover the impact creativity is having on participants of The January Challenge.
Understand what The January Challenge is all about, how we're listening to our participants and what we've learned from what they've told us.
You can view the report below.
Champion the january challenge at work!
We produce a 'Champion's Pack' every year. The Champion's Pack is all of the challenges, in one place, available to download ahead of time. Leaders in different settings use the Pack to run The January Challenge in their space, and in their way. 
Last year, 2,500 leaders in schools, hospitals, libraries and care homes used the Pack – which means that the Challenges were used to engage groups in team meetings, WhatsApp groups, lessons, creative breaks and pop-up galleries around the country!
The Champion's Pack will be available to download this October, giving you plenty of time to get prepared. 
We offer low-cost training to help you get the most out of the Champion's Pack, and you can register your interest below. 
We also offer bespoke support to
larger workplaces
Do you want more?
What about creative sessions for your whole team? Or 31 challenges, co-created and totally unique to your organisation…?
We work with leaders like you to help develop your own practice as a facilitator of group creativity, and with the staff body to celebrate their creativity.
Our offers are bespoke to you and your organisation. If you'd like to have a great conversation, get in touch with us here!
"I found that finding a creative way to complete the days task would lead to me enjoying the rest of my day too."
"I love that this is an opportunity to be creative with others worldwide. It is a powerful experience. Thank you!"
We know that
the january challenge boosts creativity and wellbeing
2023 is our 10 year anniversary!
Please consider helping us reach more people by giving a gift of
£10 towards our 10th year today
"I struggle with the dark months, especially after the post-Christmas comedown. I just find it really hard to get going. So I planned to start the January Challenge and it helped to know that I had some kind of strategy ready. The simple challenges give an easy win and sense of achievement which is important and the creative thought process lifts my mood to a positive place."
"I took part in the challenge alongside work colleagues and felt much more connected and confident to share ideas and what we'd come up with in response to the challenges."