The January Challenge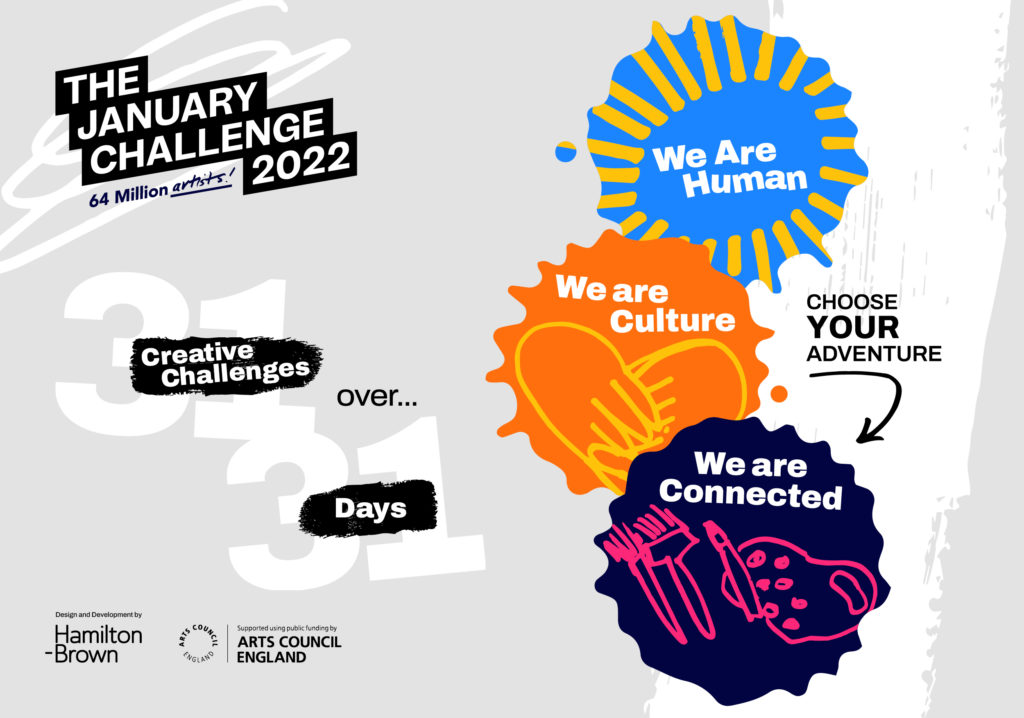 "It kick started my creativity when I was feeling most sluggish and gave me an excuse to try things out. I felt more prepared to tackle other areas of my life with a positive outlook."
"When I completed a challenge I felt satisfaction and pride. I felt a little bit more alive to the day and ready to go."
"This has given me something creative to do, made me think, given me a community to share with."
The January Challenge is 31 days of fun, quick and free creative challenges to kickstart your year. 
The 2022 challenge has come to an end – but you can still take part! 
Explore all of the challenges across "We Are Human", "We Are Culture" and "We Are Connected" by downloading our free Challenge Pack. 
The Pack is designed to help you get creative with the people around you – at work, school, or in your local community.
Use it to inspire a creative February…and beyond! 
Each programme is full of brilliant ideas, designed by musicians, chefs, sport stars, writers, makers, activists…and you! 
We are Human – 31 challenges to explore the senses, the natural world and what makes us human.
We are Culture – 31 challenges to explore our identities, cultures and communities.
We are Connected – 31 challenges to explore what happens when we create together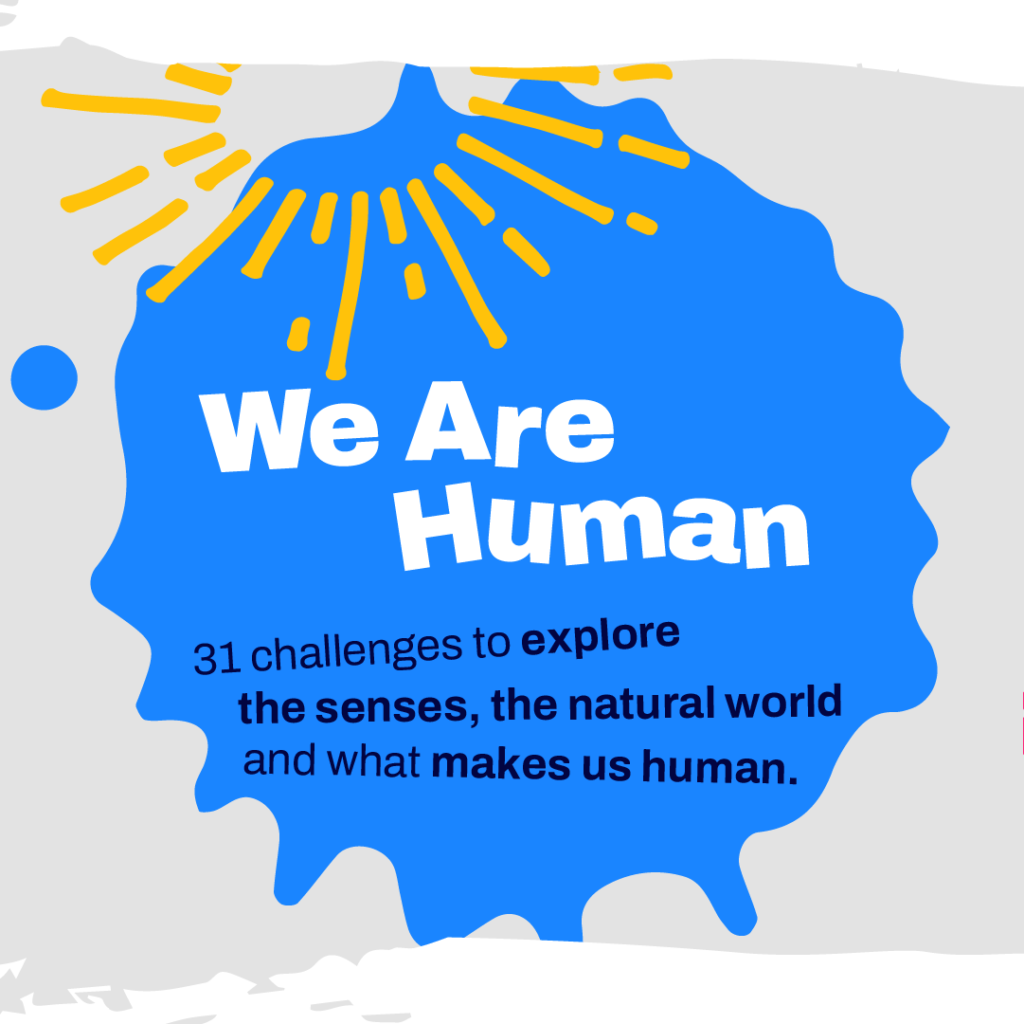 We are Human
Explore the senses, the natural world and what makes us human.
This theme is about the wonder of humanity and the different ways we all experience and interpret the world around us.
Choose this theme if you want to immerse yourself in a 'sense of wonder' at what it means to be a human on planet Earth…
We are Culture
Explore our identities, cultures and communities.
Who are you? What makes you, you? Is it the way you celebrate your culture, the food you eat, or the music you listen to?
How do you express who you are? Why do you express who you are?
This theme is about the many layers of you, and the ways you connect with the people, places and communities around you.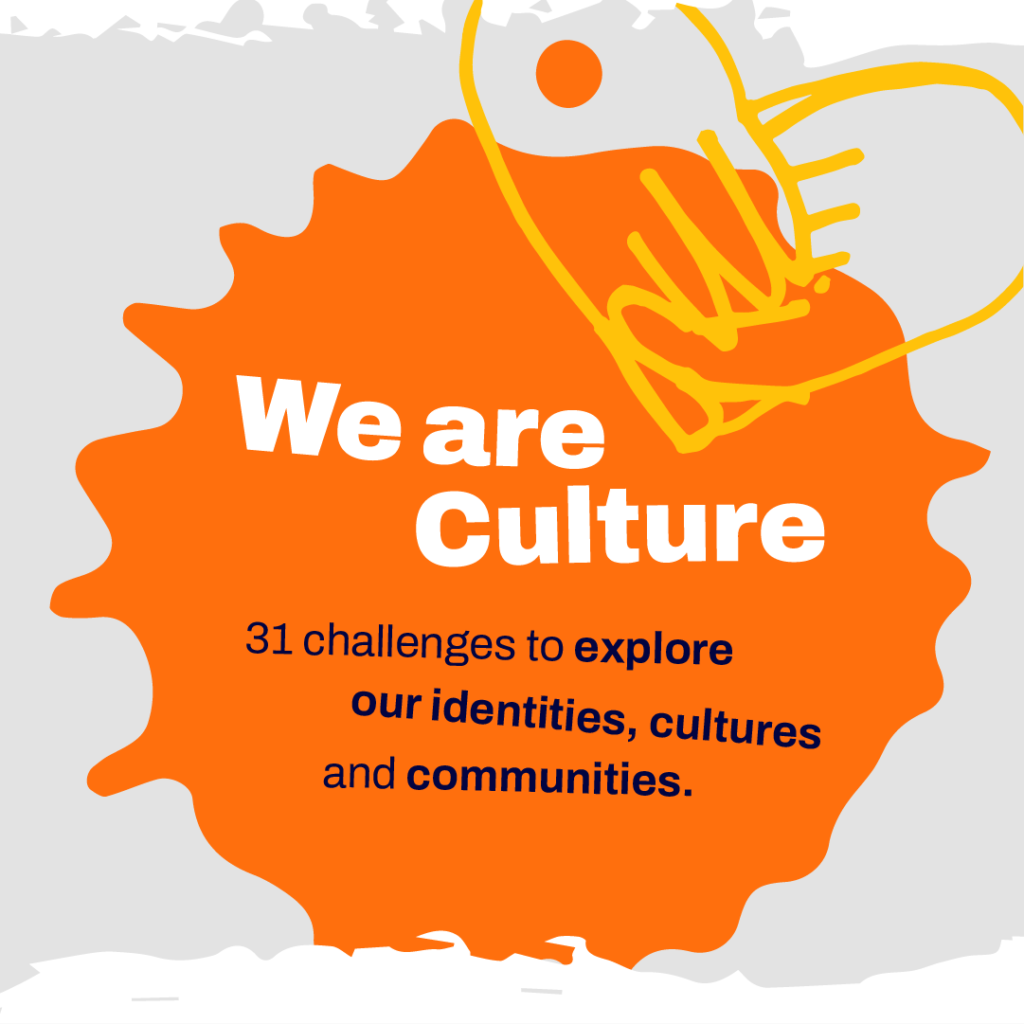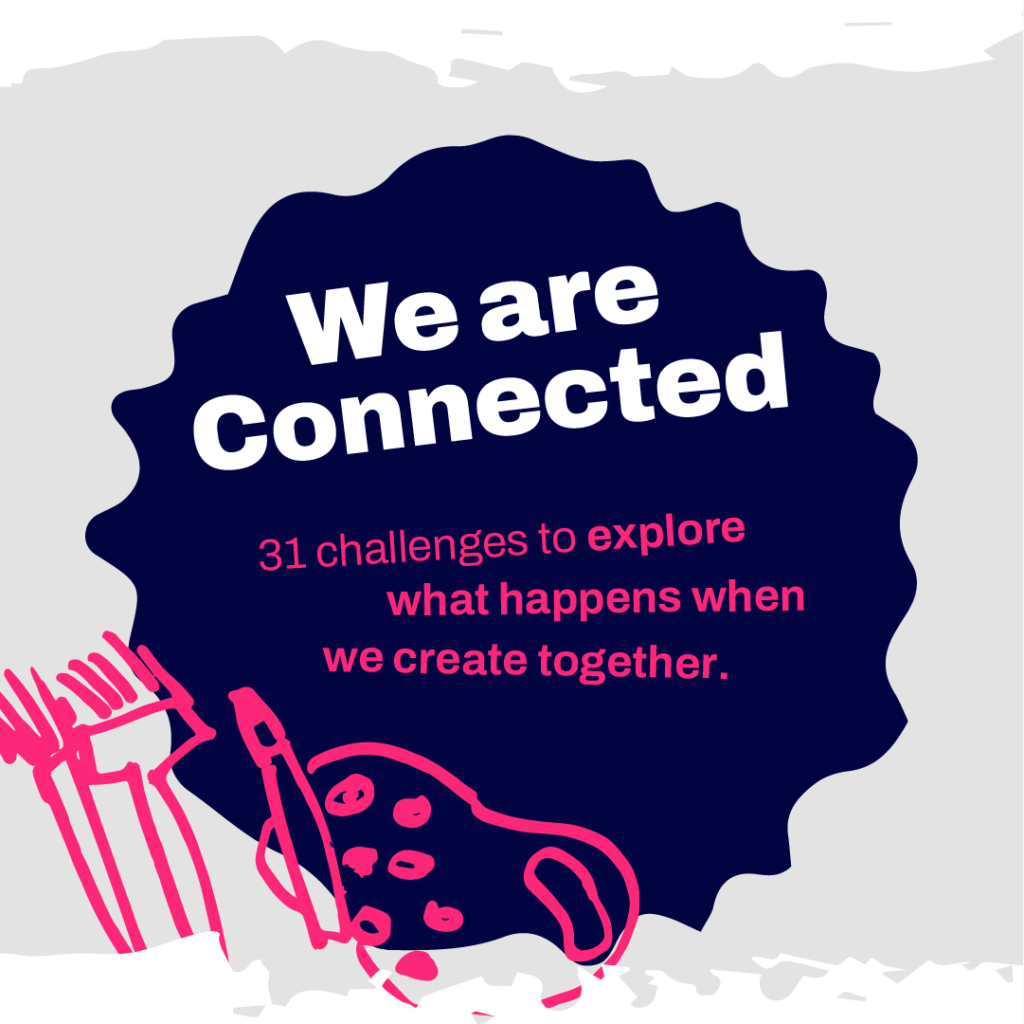 We are Connected
Explore what happens when we create together.
We can create a connection across oceans, mountains, and continents.
What does connection mean to you? Is it making new friends, or being part of a team? Or is it the way we connect – online, digitally, WhatsApp, letter, a shared experience?
Choose this theme if you want to use creativity to connect with other people.
How does it work?
At 64 Million Artists we believe everyone is creative, and when we use our creativity we can make positive change in our lives and the world around us. Every January, we release a different creative prompt on each day of the month. 
You can sign up to receive the challenge in a daily email or follow along on social media. You'll find a fantastic community online using the hashtag #TheJanuaryChallenge on Facebook, Twitter and Instagram. There, you'll be able to see other people's responses, and share your own.
All of the challenge ideas come from creative people around the country including musicians, chefs, comedians, sports stars, authors and…you! 
The "We are Human" challenges are designed to take you on a journey through your senses, the natural world and what makes us human. Expect to find challenges designed by brilliant people and organisations around the UK! Here are just some of them…
You'll meet SignKid – the UK's first and only deaf music producer, writer, and performer to integrate and adapt British Sign Language (BSL) signing into a visually based language suited specifically for live Hip-Hop, Rap, and music performance. Find SignKid on BBC iPlayer, in his short documentary 'Silent World', and check out 'ViewAble', a Signslang Dictionary collected from Deaf Community in the UK. 
You'll also find a challenge from Coral Wylie. Coral is a wildlife communicator and theatre maker, with a passion for all things BUGS! ​​On Coral's incredible Instagram you can admire beautiful pictures of bugs, and learn a thing or two about our tiny friends – or find her on gal-dem, with plenty of ideas to help you keep nature in your life after lockdown…
Banana's at the ready…! Anna Chojnicka is an artist and social entrepreneur creating art by bruising the peel of a banana with a blunt point. Every day she makes a new piece of art about something that inspires her, posting each one online as her banana of the day. Her art has been featured in the Washington Post, BBC and other global news channels and you can find more at bananabruiser.com. 
Graeae is a force for change in world-class theatre, boldly placing Deaf and disabled actors centre stage and challenging preconceptions. BEYOND is designed to transform the careers of Deaf and Disabled artists, supporting new connections to artistic development opportunities, advice, training, mentoring and creative spaces within a national network of theatres. We are so excited to have challenges in the mix from some of the BEYOND artists!
We are Culture! Within this programme are 31 opportunities to explore identities, cultures and communities. The challenges have been designed by creative people across the country – including…
Yumna Hussen! Yumna is a youth campaigner, committed to influencing transformational change to ensure young people's voices are embedded in policy making. She is an elected Member of Youth Parliament for Birmingham, passionate about amplifying stories often left unheard. She is an avid writer, spoken-word poet and co-author of the fiction book 'Struggles of War', who is embarking on the journey of building communities through agency and action. Find her on Twitter here…
You'll find Travis Alabanza, a writer, performer and theatre maker from Bristol. Their writing, performance and public discourse centres on trans and Black identities – and, you can pre-order their book "None of the Above: Reflections on Life Beyond the Binary" here.  
Cathy Reay is a writer, editor and influencer based in the UK. She has dwarfism and is a single mother to two children. She writes and speaks about disability justice, in addition to sharing her voice in the spaces of beauty, family life, sex and relationships. She is fond of drawing, cats, her partners, and arguing with equally stubborn people on the internet – and you can find her in her corner of the insta-internet here.
The very brilliant Zoe Adjonyoh is in the mix! Zoe Adjonyoh is a chef, writer, entrepreneur and founder of Zoe's Ghana Kitchen. Zoe has been pioneering modern West African food in the forms of supper clubs (London, Berlin, New York, Accra, Wales), her own restaurant in Brixton, pop-ups, street food and events since 2010. You can support 'Serving Up', Essays on food, identity and culture' here.
And, you'll meet Derek Owusu. Derek is an award-winning writer and poet from North London. He collated, edited and contributed to SAFE: On Black British Men Reclaiming Space, an anthology exploring the experiences of Black men in Britain. 
The 'We are Connected' programme is full of challenges to do…together! The challenges have come from individuals, groups, companies and teams around the UK, including…
SteamDown! Steam Down is an artist collective, weekly event and music community based in Deptford, South-East London. SteamDown was founded by Ahnansé in May 2017 and has evolved into a weekly event where Steam Down artists and its extended musical family generate spontaneous sonic soundscapes reflecting their lives in the city. Find the new music video for 'Can't hold me back' here. 
You'll find Rotherham United Community Sports Trust in the mix! RUCST is the Official Charitable Partner of Rotherham United Football Club which uses the power and the brand of a professional sports club to bring about long lasting change in diverse communities across Rotherham.
Oily Cart has been creating accessible, sensory theatre for and with disabled and non-disabled children and their families for 40 years. An Oily Cart show can take place anywhere – bouncing on a trampoline, floating in a hydrotherapy pool, or even flying up in the air! Using touch, sounds, smells, music and movement, their interactive, responsive shows prioritise the enjoyment of children for whom standardised theatre formats create barriers to access. 
GROW works with schools and communities delivering bespoke programmes in sustainable food growing and outdoor learning. A team of young people at GROW have co-created a challenge, and we can't wait to try it out.
And, this year, we co-created some of the challenges in workshop spaces with different groups of people, who all work to connect creatively with others. Those groups were; Men's Sheds – community spaces for men to connect, converse and create; You Okay, doc? – working to develop bespoke mental health support for doctors; and, NAPA – who believe that every care and support setting should be full of life, love and laughter. 
Choose this theme if you want to use creativity to connect with other people.
Designing The January Challenge
In the 2021 programme we worked with three brilliant collaborators – Lemn Sissay, Jess Thom (aka Touretteshero) and Yomi Adegoke to create and curate the programme from hundreds of your challenge ideas. 
This Summer, we ran a series of creative workshops and for people to 'Have Your Say' on The January Challenge 2022. You can find out more about these workshops, and why we ran them, here.
Thanks to all the people who attended we've been able to design the new themes and ideas that make-up The January Challenge 2022!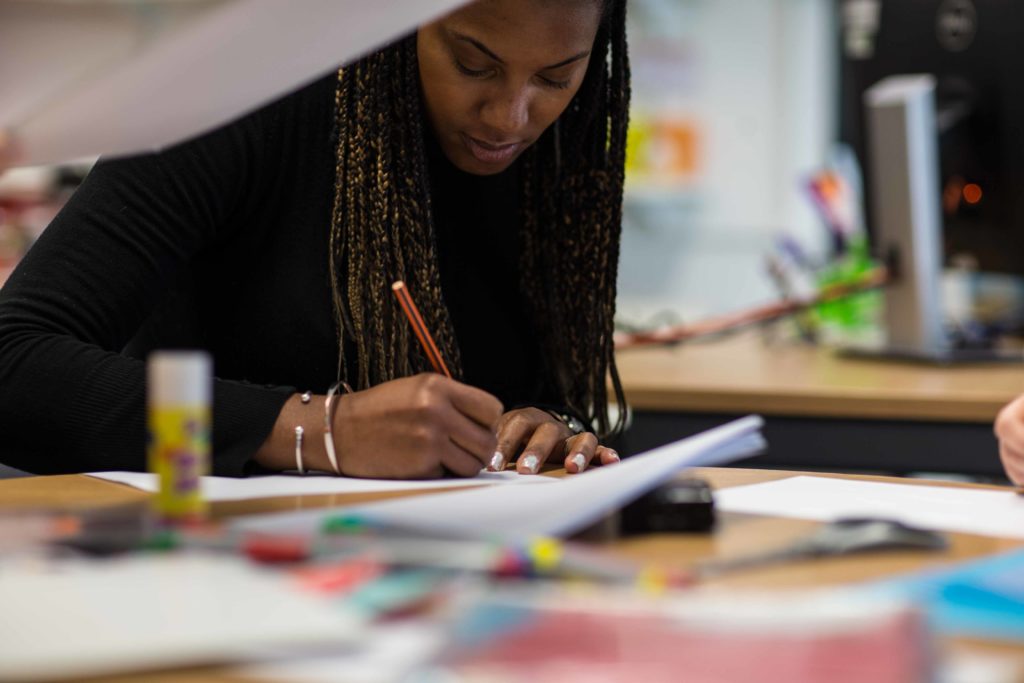 31 days of accessible, fun creative prompts to connect your teams and improve morale.
The January Challenge boosts creativity, wellbeing and community connection.
Get creative with your colleagues, participants or service users and use The January Challenge to connect with others.
How do I get involved?
To support groups and teams to take part together we create free Challenge Packs that include all the challenges ahead of time.
This gives creativity champions within communities and workplaces the inside scoop! It is designed to support champions to engage and get creative with the people and communities around them.
With the pack, you can set up your own ways of sharing the challenges, and engaging your teams or participants. Use it to get prepared, pick and choose your favourites, adapt challenges – make it work for you! 
64 Million Artists can help you get set up and ready to use the pack. To enquire about creative onboarding sessions – email us at jemima@64millionartists.com.
When you download this pack, you will find all of the 2022 challenges. Remember, the daily challenges are a surprise for thousands of people taking part – please only share and use the pack internally. 
We also offer bespoke support to
larger workplaces
What about creative sessions for your whole team?
Our aim is to support teams to explore everyday creativity in work and in leadership. 
We work with leaders like you to help develop your own practice as a facilitator of group creativity and engaged participation; and with the staff body to celebrate their creativity and introduce the Challenge. 
Or challenges bespoke to your business…?
We can work with you and your staff to co-create 31 challenges totally unique to your organisation – and reflective of your business values, creativity, work and ideas. 
Together we'll create the challenges in a series of creative, participatory workshops, and deliver them to you in a tailored pack. 
This offer sits alongside creative facilitation training for leaders, staff creativity workshops and support throughout January. 
We know that
the january challenge boosts creativity and wellbeing
2023 is our 10 year anniversary!
Please consider helping us reach more people by giving a gift of
£10 towards our 10th year today
"It's been a fantastic experience for me - I found that I've been able to look at the world in a slightly different way than I would if I was sat in an office for 9 hours a day answering emails."
"It pushed me to think outside of the box all the time. I was forced to stop and reflect, look around me and generally get off the treadmill. I feel more open to taking risks. I feel more confident."
"Two things have happened for me while introducing this to the NHS trust I work in. The honesty and openness that staff bring to the challenge and the vulnerability they are happy to share through the creative projects they embark on. Wow! And then today as the challenge has been taken to our Dementia patients … ! I love it, my family love it, my workplace love it and we are laughing at the ideas we are coming up with…"