The January Challenge
Each year, thousands of people take part in our 31 days of free creative challenges. #TheJanuaryChallenge takes place across social media and promotes creativity, peer support and wellbeing.

The January Challenge 2020
Kickstart 2020 by taking part in our celebrated creativity programme! Join in with 31 days of simple creative challenges and a vibrant community of participants sharing their work and experiences across social media. The January Challenge 2020 is set to be huge. In 2020 we're excited to be focusing on creative wellbeing in the workplace and are offering all sorts of different organisations their own bespoke experience. Whether you're an employer looking to activate the creativity and wellbeing of your workforce, or an employee with a passion for colleague engagement, this could be just what you're looking for. Check out our handy info pack or, for more details, drop Jemima a line at jemima@64millionartists.com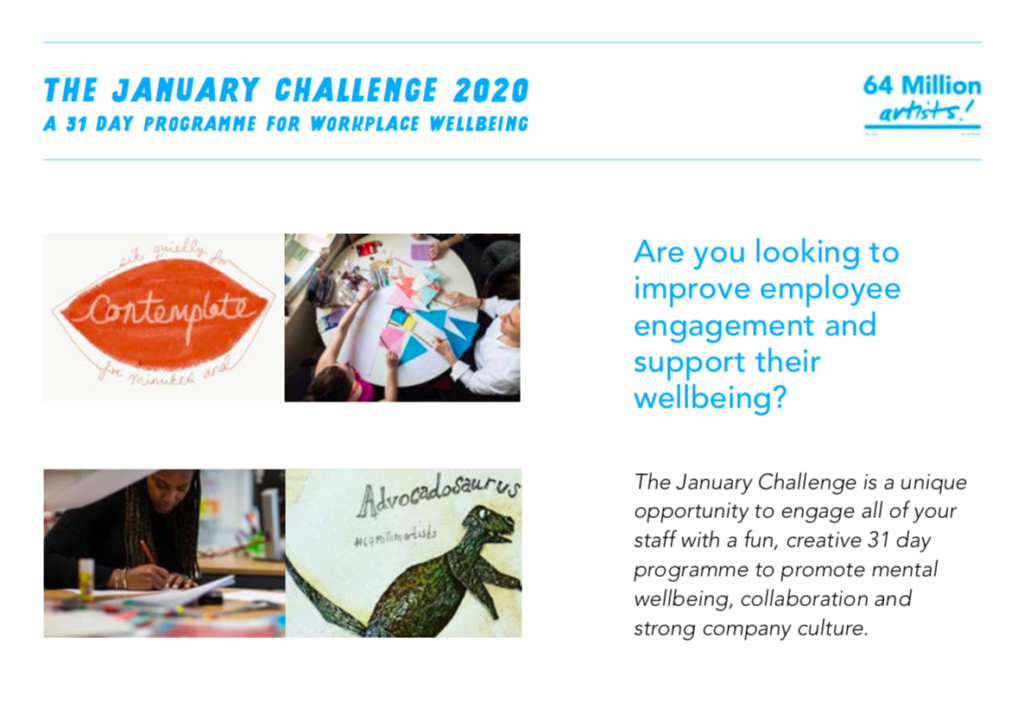 The brief
At the heart of 64 Million Artists, we think everyone is creative and that we should all have the opportunity to express it regularly. Creativity is already in our lives, sometimes it just needs a little spark to wake it up or a quick reminder that it's easy to access. That's why in January, a month notorious for making us feel blue, we set a free and fun creative challenge every day for 31 days. We use a simple process: Do, Think and Share to support people who'd like to express themselves, get a spring in their step, or connect better with themselves and with others.
What happened?
In 2019 we had 15,000+ participants (those that we know of!) from all around the UK and beyond. They ranged from under 12 to 75+ years old. A large number of people said that they were experiencing mental health difficulties or dealing with issues around grief, separation, caring responsibilities or just the January Blues. A whopping 95% of people said that taking part had a positive impact on their wellbeing. 
Our dedicated Facebook Group now has more than 2.3k members, many of whom interact daily and also take part in The Weekly Challenge.
What we did
We ran a 31-day creativity challenge and invited people all over the country to join in. The challenges are always designed to take only 5-10 minutes to fit into the day, are free and require little to no materials to be able to contribute.
In 2019 the activities were crowdsourced by the public and included challenges such as 'make something taller than you', or 'draw with your drawers', or 'recreate your favourite album cover'.
What were the outcomes?
From a survey of 400 people we found out that…
People got a lot out of connecting with each other – more than any other year, the sharing was a huge part of what people enjoyed about the challenge

People loved using their brain differently and trying a variety of things

Challengers loved to stretch and challenge themselves, it gave them sense of achievement – a feeling of overcoming something. It helped them think they could do things they hadn't thought they could before

Participants enjoyed the daily nature of  the challenge – and the fact that it was a surprise
People said…
"I learned that I can do things I thought I was not good at."

"The experience of trying new things and connecting with other people."

"It gave me focus."

"It brung me joy."

"I felt more mindful."

"Daring to have a go without embarrassment."

"It was good to play and loosen up to try some different forms of creativity."
It surprised me how uplifting it was to create for the fun of it...this must be how it felt to play as a child, completely immersed in the task itself.